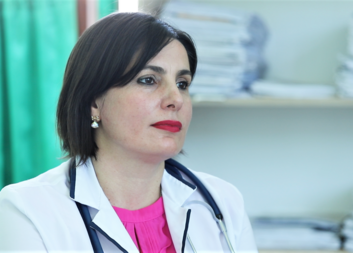 Village Doctors Improved their Clinical Practice Thanks to the Support of USAID
Caritas Czech Republic has been strengthening Georgia's primary healthcare (PHC) for years. Since 2022, thanks to the financial support of USAID, together with UNICEF, we are carrying out a project to improve the quality of child health services through practice facilitation and supportive supervision provided to the PHC practitioners in all regions of Georgia. Recently, we had a chance to visit a rural ambulatory in Jugaani village in Sighnaghi municipality to learn how the practice facilitation helps rural doctors in improvement the quality of provided services on a daily basis.
Jugaani is a small village in East Georgia with the only ambulatory in the center of the settlement. The clinic is represented by two doctors – Irma and Tamar, who together with two nurses are responsible for monitoring and managing health conditions of approximately 3 000 locals, both children and adults. 
Working as a family doctor in rural areas of Georgia is quite hard, especially when it comes to proper working conditions and accessibility to modern evidence-based recommendations and standards. Within the online supportive supervision sessions and on-site monitoring visits provided through the USAID-funded project, Caritas Czech Republic contributed to the capacity-building of rural doctors aiming at ensuring the quality of medical services provided for children and their mothers, especially during COVID-19.
Tinatin Tsikurishvili, a family doctor from the Kakheti region is a practice facilitator in the project. Her duties include involving rural doctors in the PHC practice facilitation sessions based on the updated pediatric clinical protocols and giving respective consultations and recommendations after monitoring visits to each ambulatory. Except for mentioned, Tinatin is providing rural doctors with needed information on using preventive and development screening methodologies in children, which she considers one of the most valuable directions of the project:
"During our first visit, we assessed the infrastructure and equipment of rural ambulatories as well as the quality of working on medical documentation, which is quite important for ensuring preventive services and child development monitoring, and the effective management of pediatric diseases in primary healthcare. Afterward, we gave recommendations to the doctors to make their work more efficient. During the second visit, we check the impact of our interventions on clinical practices of village doctors or nurses and provide additional recommendations on quality improvement, where needed."
Tinatin says that participation in the project is a great opportunity not only for her professional development but for the capacity-building of all family doctors across the whole country.
Noteworthy, before the project intervention began, rural ambulatories did not maintain the electronic registries of children population. At the project request and through the huge support of practice facilitators, family doctors have already prepared and started to use electronic registries of each registered children. Likewise, doctors of Jugaani ambulatory have also developed electronic registries for children aged 0 to 18 years. In addition to the registries, rural doctors started electronic tracking the number of pediatric visitors each month.
Irma Samelia-Korashvili, a family doctor of Jugaani rural ambulatory, says that the project played a great role in building her self-confidence as a doctor. She thinks that providing rural healthcare practitioners with reliable clinical recommendations in their local language is a luxury, as in many cases, doctors in regions do not know other languages except for Georgian well enough to get acquainted with modern clinical protocols on respective electronic resources.
Irma emphasized the importance of training sessions related to the management of COVID-19 among children, that in her words, helped doctors of Jugaani village in effective management of the pandemic at the local level.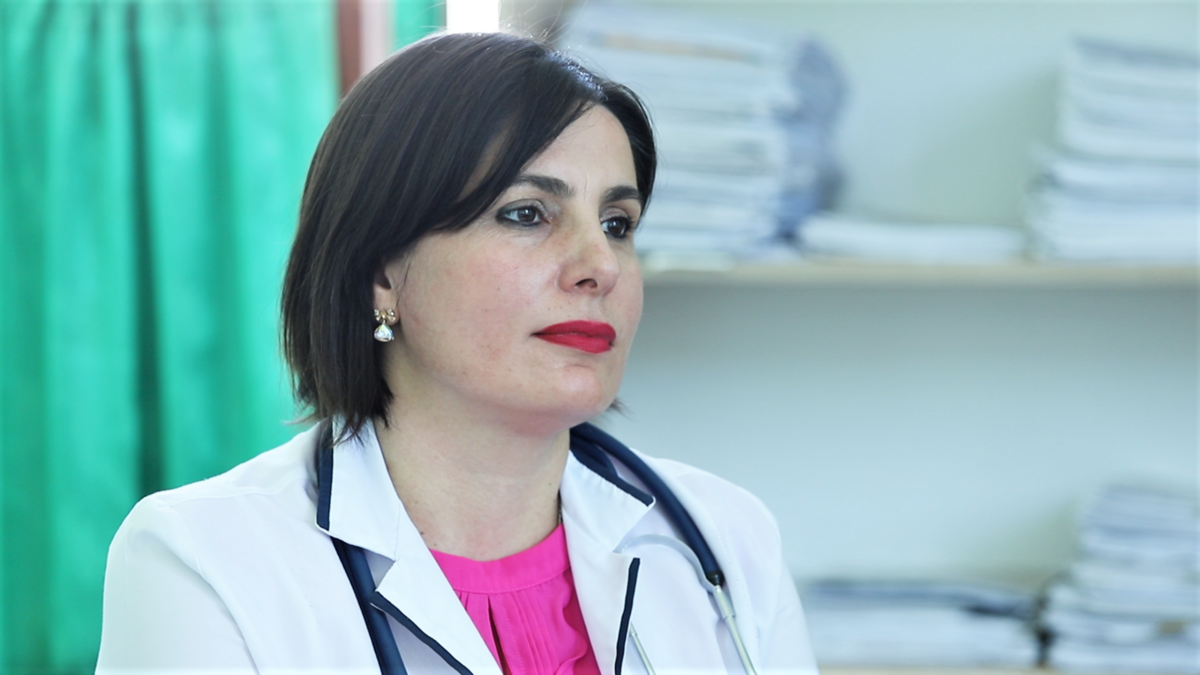 The project envisages rural doctors' active involvement in early detection of the developmental delays in children, including autism spectrum disorder, and timely referral to relevant service providers of early intervention if needed. Notably, Irma and Tamar have already begun using respective WHO provided child growth standards to track child growth and development. They also use autism screening questionnaire, questionnaires for maternal depression, and other screening methodologies in their everyday practice.
UNICEF and Caritas Czech Republic Effectively Support Georgia's PHC
Since early 2022, with financial support of USAID, Caritas Czech Republic and UNICEF have been carrying out the project to ensure continuity and quality of maternal and child health services during the COVID-19 pandemic.
Within the initiative, all 1284 rural primary healthcare providers across the country were engaged in the project activities. Specifically, each rural clinic has an assigned trained practice facilitator as Tinatin Tsikurishvili, who works with the family doctors of approximately 30-35 ambulatories to improve their performance in the prevention and effective management of various childhood illnesses at the PHC, including COVID-19.
At the beginning of the project, primary healthcare mentors trained 32 practice facilitators who later carried out online supervision sessions and on-site visits to rural ambulatories across the whole country. Since the start of the field supervision process in February 2022, each facilitator has carried out at least one face-to-face supportive supervision visit to each ambulatory. Each supportive supervision session was dedicated to the specific clinical topic agreed upon between the mentors and facilitators.
Another very important part of the project was the update of pediatric COVID-19 management protocols, which has already been done and enforced by the Ministerial order in February 2022.
Subsequently, the face-to-face training course on the use of updated protocols were held in Tbilisi (2 training sessions), Rustavi, Marneuli and Telavi. Overall, 100 doctors of pediatric hospitals took part in a two-day training and were awarded the points of Continuous Medical Education. The course was accredited by the Ministry of Internally Displaced Persons from the Occupied Territories, Labor, Health and Social Affairs (MoILHSA).
Our Role in Georgia's Healthcare
Since 2015, Caritas Czech Republic has been supporting the Georgian Government efforts to reform the health care and social sectors. Thus, involvement in the USAID/UNICEF-funded project is a part of Caritas Czech Republic's broader contribution to improvement of the country's health care system.
In July 2021, we presented a Unified Electronic Management Information and a 0-6 Child Health and Development surveillance Information Systems to the Ministry of Health of Georgia. These systems will be used nationwide for the increase of the quality of care provided by the primary health care facilities to their patients. Moreover, CCR experts developed 10 clinical practice protocols and are training the doctors and nurses in 16 rural ambulatories of Dusheti and 28 ambulatories of Zugdidi municipalities in their application. This project is being implemented within the framework of the Czech Development Agency's support to the reform of primary healthcare system of Georgia. 
In addition to the trainings, the PHC experts are providing coaching and regular supportive supervision to the medical staff in the rural ambulatories of Dusheti and Zugdidi with the aim to engage family physicians in regular medical service quality improvement activities. Those are essential to achieving the aim of improving the health of the population, enhancing patient experiences and outcomes and improving PHC provider capacity to manage the most common non-communicable diseases.
In August 2021, Caritas Czech Republic started piloting a Slovak-made innovative solution Scase that will help Georgia's primary health care system in measuring different vital signs of the patient, which helps not only to monitor patient´s status, but also to detect some of the non-communicable diseases like hypertension or diabetes. After four months, team of Caritas Czech Republic (CCR) and S-case company from Slovakia successfully concluded the project. It was proven that this device is efficient for primary health care facilities located in rural areas as it increases the productivity of healthcare providers, detects new cases of different non-communicable diseases, and as it enables fast and accurate data-sharing and storage in electronic format.
Furthermore, after the COVID-19 outbreak, CCR rapidly tailored its activities to cope with the pandemic, and with this in mind, conducted online trainings for rural doctors in the management of the mild COVID-19 cases, post-covid complications, and vaccination side effects. Moreover, CCR handed over 50 computers to rural ambulatories in pilot regions to enable family doctors to effectively run their clinical practice.
Did you enjoy reading this article? Read more: