31-Year-Old Nana Opens an Enamel Workshop in Racha
After living in the capital of Georgia for years, 31-Year-Old Nana Iaralishvili decided to move to mountainous Racha and realize her talent in her hometown. With financial support from Slovak Development Agency (SlovakAid), Nana became one of the winners of Caritas Czech Republic grant program and opened an enamel workshop – NanArt in the city of Oni.
Nana Moves Back to her Hometown
31-year-old Nana Iralishvili recalls that since her childhood she loved to work on handmade accessories. She worked on different materials, always striving to learn something completely new. Nana learned embroidery at Tbilisi Ethnographic Museum, and a friend taught her how to make felt toys. She also learned working on enamel items and that became the activity she loved the most. The only circumstance that always prevented her from doing her favorite work was the lack of own workshop. As a result, she had to travel long distances to work in a friend's cloisonne enamel workshop:
"I did not have proper conditions for working on cloisonne enamel at home, in Tbilisi. As you know, you need different tools and a special stove. I was trying to collect money to buy all this and arrange my own space, but there were other needs, and the money was never enough."
After graduating from the university in Tbilisi and working in the field of banking for a while, Nana decided to return to her hometown of Oni and dedicate herself to enamel handicrafts. This was not a usual step for a young lady raised in the capital, as Georgian youth mainly aspire to live in Tbilisi believing that there are more self-realization opportunities there.
Shortly, after moving to Racha, Nana got married, had a child, and decided to bring her parents back to Oni, as well:
"First, I returned to my hometown completely alone. Then, I convinced my parents to move back to Racha as well. My mother used to work as a baker in Tbilisi and now she has her own small bakery in Oni."
Nana Opens an Enamel Workshop in Oni
Nana's desire to set up her own workshop has not slowed down in Oni either. She always tried to get information about announced grant competitions and other funding opportunities. Meanwhile, she also started working on felt drawings with friends.
During the COVID-19 pandemic, with the financial support from Slovak Development Agency (SlovakAid), Caritas Czech Republic announced a grant competition that has become a real way for Nana to make her dream come true. Within the framework of the project, Nana obtained a grant amount of 5 000 GEL and opened her own enamel workshop:
"With this money, I bought a table, chairs, and lamps for each table, also, a boring machine, enamel stoves, a polishing machine and a jewelry set with which the enamel is processed. Caritas Czech Republic has allowed me to make my dream come true."
Currently, Nana manufactures cloisonne enamel jewelry in silver, cross-stitch accessories, felt toys and Rachian flower jewelry with epoxy. She sells the products mainly through digital channels. She has regular users from different regions of Georgia:
"One of my regular customers is from Kutaisi, she buys enamel handicrafts. Also, I recently sent an enamel ring, felt toys and a piece of Rachian flower jewelry to a customer from Canada.
After being funded from Caritas Czech Republic, I started working in a new direction, too – Rachian flowers as jewelry. My focus is to turn Rachian flowers into jewels so that they can maintain a permanent life and allow people to take part of Rachian unique nature with them permanently."
Nana is constantly working to deepen her knowledge and develop her own skills. In the future, she plans to teach handicrafts to the youth of the region and leave the best students to work in her own workshop.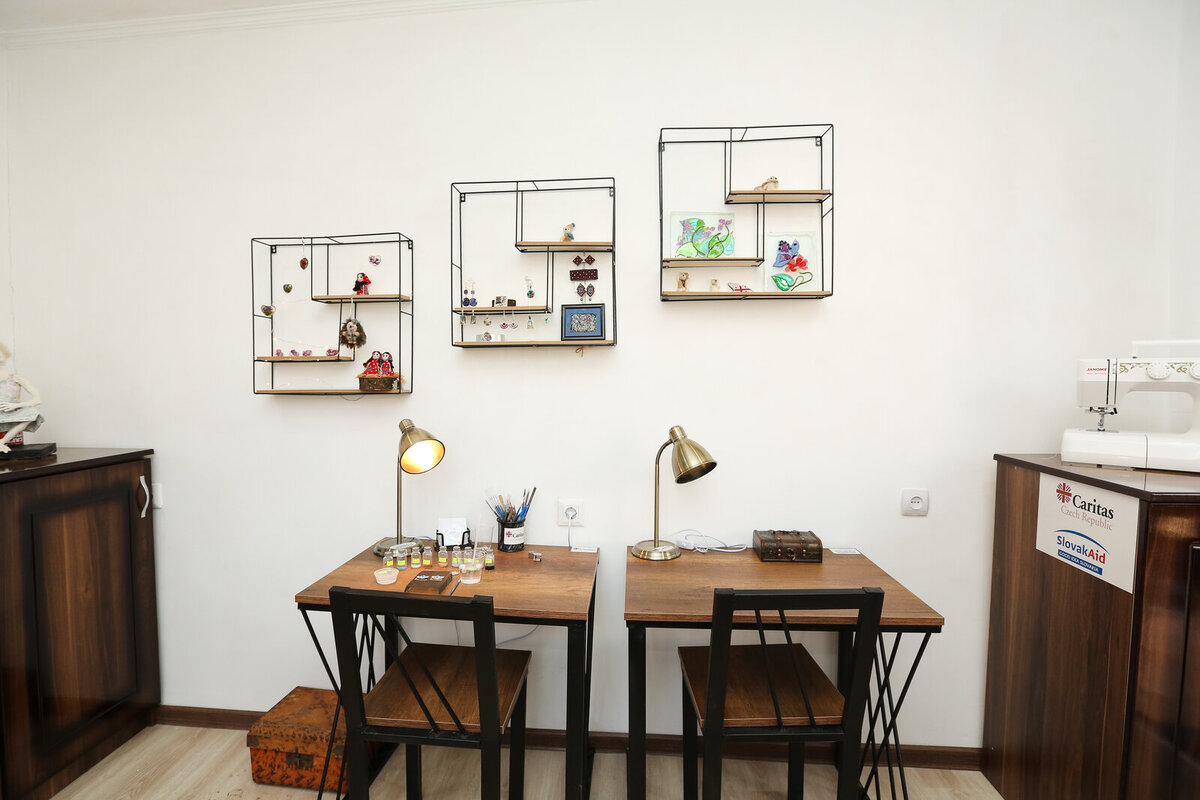 Caritas Czech Republic's Role in Fighting with the Pandemic
Since the outbreak of the pandemic in 2020, Caritas Czech Republic rapidly tailored most of its activities to cope with the economic and social problems caused by the spread of COVID-19. With the financial support from the Slovak Development Agency (SlovakAid), Caritas Czech Republic's mission in Georgia in close cooperation with the Slovak NGO Sosna, implemented the project Mitigating the Negative Economic Impact of the COVID-19 on the Population of Racha in the Georgia's mountainous region of Racha.
As part of the project, CCR supported 26 SMEs to maintain, revive, and diversify their economic activities; contributed to retaining 40 jobs; trained 40 SMEs representatives in online marketing; distributed 3 040 poultries with their vet preparation and food to 152 vulnerable families. Nana's enamel workshop was one of the supported enterprises.
Prepared by Nina Kopaleishvili – PR and Communication Officer, Caritas Czech Republic in Georgia, nina.kopaleishvili@caritas.cz