"Georgia Will Always Stay in my Heart" – Jan Blinka Leaves the Mission with Gratitude
Jan Blinka has been leading Caritas Czech Republic's Georgian Mission since 2019. During this period, our organization implemented several important initiatives including the EU-funded ENPARD Khulo project, CzechAid-funded projects in support to strengthen primary healthcare in Georgia and protect the rights of persons with disabilities and building of the Zugdidi Screening Center for the population of West Georgia. 
Noteworthy, during the COVID-19 pandemic, Jan as the head of the mission rapidly tailored our activities in support of the Government of Georgia and thus, Caritas Czech Republic became one of the leading organizations contributing to the management of the pandemic in the country.
After three years of interesting and valuable work, Jan Blinka leaves the country with tangible results achieved together with the Georgian team, satisfaction, and gratitude to his colleagues, partners, and friends. We had a chance to ask him to summarize the results achieved since 2019 and say a few words about the emotions he leaves our country with.
You have been leading Caritas Czech Republic's Georgian mission for almost three years and now, a new page starts in your life. What are the words you are leaving our country with, especially our team with whom you have contributed to the development of various sectors in Georgia?
I am leaving Georgia with the words of gratitude and thanks for all beautiful memories, extensive professional and personal development, and joy and satisfaction these three years gave me. I very much value that Georgia and its people hosted me so generously, so I found here my second home. Georgia will always stay in my heart.
And the same can be said about my colleagues and the whole team of Caritas Czech Republic – without everyone in the team, without their professionalism, friendship, and open attitude, neither my personal nor my professional life in Georgia could be as successful and enjoyable as it was. So, I would like to thank each colleague for being part of that team.
I would like to go back to those first days when you came to Georgia. What was your first impression and how did the upcoming period live up to your initial expectations?
As I have been coming to Georgia since 2010, I was not the "blank sheet of paper", when I took over the position of Head of Mission in September 2019. On the contrary, I decided to lead Caritas Czech Republic´s mission in Georgia because I already knew the country well, I already loved it, and I already had many friends here. But despite that, the work for Caritas Czech Republic was a new challenge to me as I had to prove myself as a capable manager, fundraiser, networker, and organizational leader – as these all are the components of the work of any Head of Mission.
It is up to others to evaluate how successfully I have fulfilled all these roles, but personally, I am leaving the position with the feelings of accomplishment, content, and satisfaction as I see many successes and results, which have been achieved during the period of my leadership. Sure, we could not have achieved any of these if the team would not be working so hard and if not each of the colleagues has been contributing heavily to the common successes.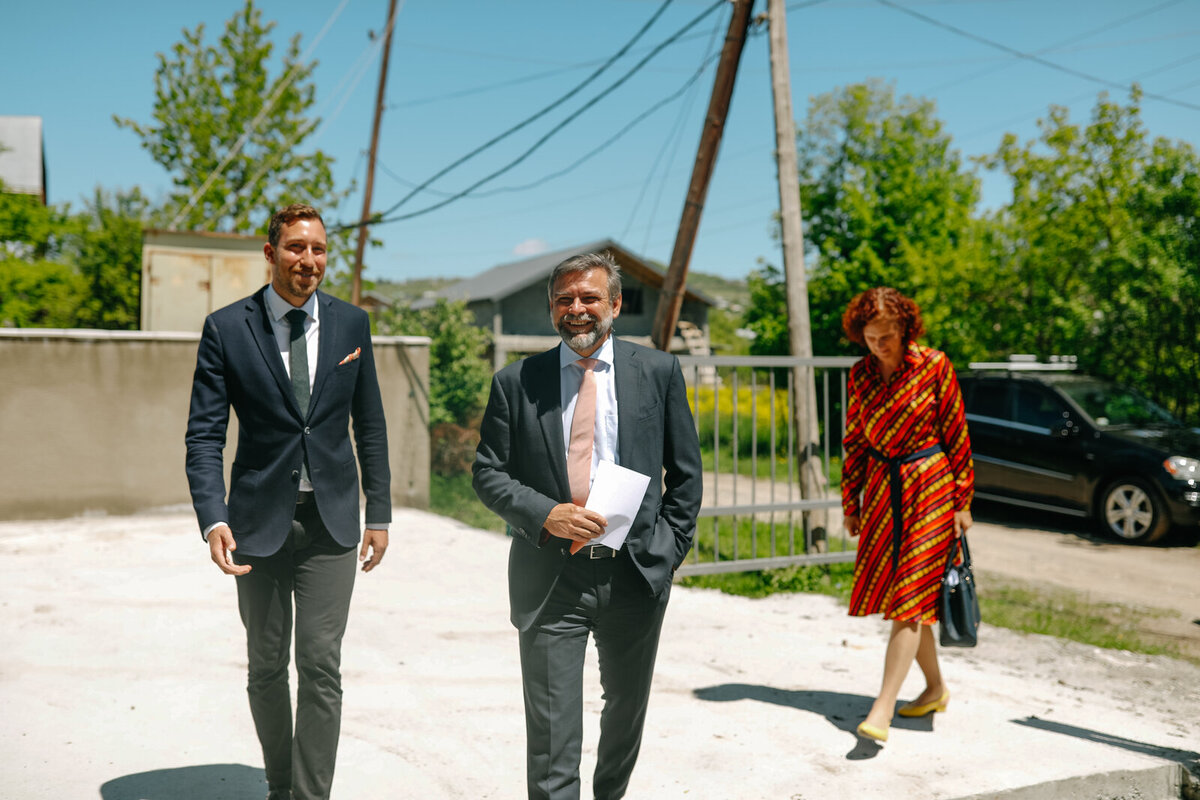 You have been working in development cooperation for many years before coming to Georgia and in Tbilisi, you had a chance to lead a team of professionals with whom you have been working to strengthen primary healthcare, advocated for the rights of persons with disabilities, supported rural development of the country and worked for environmental protection. What are the most significant results achieved together with your team?
In each of those sectors, Caritas Czech Republic has delivered visible and remarkable results, which undoubtedly improve the lives of the people living in Georgia. In primary healthcare, we have contributed significantly to tackle the Covid-19 pandemic in Georgia, as our IT team is behind the development of Covid-19 vaccination booking portal, which has been used by every person, who is getting vaccinated in Georgia. In social protection, we have significantly improved the lives of persons with autism spectrum disorder, children with severe disabilities in the need of long-term and palliative care, and persons with disabilities living under the state care. In rural development, our projects have accelerated micro and small businesses in rural mountainous regions of Georgia. And finally, in environmental protection, we have been supporting several municipalities to improve local waste management practices.
We could not do any of these without continuous financial support and trust from our donors – CzechAid, SlovakAid, UNICEF, UNFPA, and European Union being the most crucial ones – and I am very happy to see that they often explicitly acknowledge high quality of our work. Getting the funding from them allows us to continue assisting those in need, being it the persons with disabilities, isolated rural communities, persons in the danger of cancer, women-headed households, or other vulnerable groups of the society.
Supporting Georgia's healthcare is one of the flagships of our organization's work. How would you assess Georgia's healthcare system and Caritas Czech Republic's role in its development?
The access to quality healthcare is unfortunately not equally distributed throughout the whole society – while wealthy and those living in the big cities can access quality healthcare relatively easily, it is not possible for needy parts of society or those living in rural areas, who are limited by the financial costs of the care or/and by the physical distance. Within our projects, we are focusing especially on the second problem, which is low quality of healthcare in rural areas, and which we are supporting already for several years with the capacity building, online and in-person trainings and supervision and with the development and implementation of different IT solutions for effective management of ambulatories and data-sharing.
Thanks to the professional work and visible results in this regard, our organization has become a leading NGO active in healthcare improvement in Georgia and trustful partner of the Ministry of Health and Social Affairs, as well as donor organizations like CzechAid and UNICEF.
Georgia is actively working for ensuring rights-based legislation and services for persons with disabilities. Within the projects implemented during the period you spent in Georgia, how Caritas Czech Republic changed the lives of PwDs?
I am glad that we are approaching this topic from systemic point of view as we intend to improve Georgia´s social protection system and allow local organizations to work more efficiently and to provide more quality services to the final beneficiaries.
In doing so, we have developed many guiding and strategical documents, which then have been approved by the Ministry of Health and Social Affairs of Georgia and which set the standards to be followed by all other organizations. Specifically, thanks to our work, the minimum standards for services for the persons with autism spectrum disorder and the standards on the provision of long-term and palliative care to the children with severe disabilities were approved and implemented, and thus impacting positively lives of thousands of some of the most vulnerable members of the society.
Rural development and environmental protection – much has been done in recent years in this direction and your contribution was invaluable. What was the most important achievement in this regard?
Yes, many organizations have been working in the direction of rural development and the progress is visible in many parts of the country. Due to that, we selected one specific niche to which we have been focusing our rural development and environmental protection activities and this niche is the mountainous areas, which still account among the least developed of Georgia.
I am very happy to see that thanks to our projects, many successful businesses have been flourishing in Tusheti, Racha, and in Khulo Municipality bringing profit – and thus better quality of life – not only to their owners, but also to the hundreds of their employees. Personally, I like a carpet cleaner, furniture factory, and sewing workshop in Khulo, small wine producers, horse riding business, and metal workshop in Oni and Ambrolauri, and guesthouses and wool production workshop in Tusheti.
When you started working at Caritas Czech Republic's Georgian mission, soon the pandemic started and you rapidly tailored organization's activities to support the Government of Georgia in the management of the pandemic with various projects. What is the most valuable what you have learned from that period?
That we are flexible and professional organization, which can adjust quickly to the new situation and work efficiently also in very challenging environment, responding swiftly to newly emerged needs. And once again – this could not be done without professionalism and dedication of my colleagues, open communication with our partners, and trust from our donors.
What impressed you the most in Georgia?
It has been many things, but primarily, it is the people and the diversity of different ethnical, religious, national and social groups living on its territory. During my work, travels, and free time, I have met many individuals with various backgrounds, for which Georgia has been temporary or permanent home and although I may not always agree with all their opinions and values, each of such meetings has enriched me enormously. I have tried to approach each person with open heart and mind to get inspired, to learn, and to show the respect. Such diversity is unique and Georgia and its society should value it and cherish it, and not to turn to uniformity, standardization of one accepted mainstream, and to hate towards, those who do not fit that mainstream.
What will you miss the most?
It will be again many things – the people, my colleagues and friends, enormously tasty cuisine, beautiful and pristine nature, as well as satisfying work, which – as I see with my own eyes – has a lot of positive impact on many segments of Georgia´s society. As I said before, Georgia will always stay in my heart, and part of my heart will always stay in Georgia.