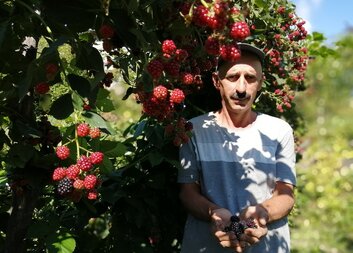 CCRG supports the creation of more than 200 new work places in Upper Adjara
Thanks to financial support from the EU-funded ENPARD Programme, Caritas Czech Republic has contributed to the creation of more than 200 new jobs in the Khulo Municipality, located in Upper Adjara. In total, a sum of 1,030,000 Euros is being granted to small and medium local enterprises to implement 73 business projects. An additional sum of 440 000 Euros is being mobilized by the beneficiaries as their co-finance.
Supporting farm and off-farm economic activities

The mountainous regions, and Upper Adjara specifically, are among the least developed parts of Georgia, where the majority of people still rely on subsistence agriculture. In order to understand how people's lives have changed thanks to Caritas´ assistance, you should get to know some of our beneficiaries.

Seven years ago, thanks to the funding from Czech Embassy´s Small Scale Grant Programme, Guram Dzirkvadze planted the first raspberry orchard in the village. Soon after realizing its potential, Dzirkvadze decided to give the seedlings to the whole village. He distributed nearly 17,000 seedlings and told everyone that he would buy the harvest from them. As part of the ENPARD-funded project, Guram Dzirkvadze was granted a car equipped with special refrigerators, which can easily store a large number of berries and transport them to Batumi. Mr. Dzirkvadze says that his next goal is to develop an organic farm, which could eventually be exporting to the EU market.

Sulkhan Pasanidze is a farmer. He has a herd of cattle and sells dairy products. Sulkhan is also the winner of the grant, under which he was given an expensive tractor with different accessories allowing him to plow, sow, mow and press the grass. "With this tractor, I am able to plow about 60 hectares in one season and press 50 thousands bales of hay. I do this not only for myself, but also for other farmers as a paid service," explains the farmer.

Hotel "Kedlebi" was the first family hotel in the village. As the hotel owner, Iamze Meladze told us, no one believed that in a small village, hidden in the mountains, tourists – and even those from abroad – would ever come. With the help of the ENPARD grant competition, Iamze purchased furniture and appliances and paved his yard. "I think that my mission was to show the villagers that you can do interesting and useful things here as well. I wanted to show everyone that we can popularize this place and that we have the potential to do that,"said Iamzde Meladze.

Although confined to a wheelchair, Mzevinar Iremadze is well versed in traditional embroidery techniques, which are passed from generation to generation in Upper Adjara. Two years ago, Iremadze decided to take a part in the ENPARD grant competition and after successfully passing all stages of the competition, she was awarded professional sewing machines and other equipment to open a small atelier. Mzevinar teaches embroidery to her neighbors for free and the accessories created by her are sold in souvenir shops in different resorts of Georgia.

Rural development through LEADER´s approach

The project, under which above-mentioned businesses were funded, is called "Promotion of Rural Development and Diversification in Khulo Municipality." Besides the EU´s ENPARD Programme, it was also financially supported by the Czech Development Agency. The project´s main goal is to reduce rural poverty in Upper Adjara through the provision of grants to local SMEs and trainings to revitalize farm and off-farm economic activities.

Another important intervention of the project is an introduction of the EU´s LEADER approach to rural development through the establishment of a Local Action Group (LAG). "Through the participation in LAG activities, local citizens have the opportunity to be involved in the creation of the Rural Development Strategy, evaluation of grant competition applications as well as in other economic or social activities," said Giorgi Murvanidze, Caritas´ Project Manager.