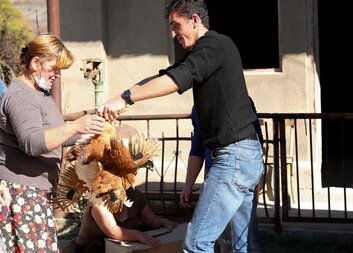 Caritas Czech Republic assisted to vulnerable families in Racha-Lechkhumi region
The damage caused by the Covid-19 pandemic to the economy and human well-being is especially severe in the mountainous regions of Georgia, where the majority of the population is dependent on tourism and entrepreneurship is less developed. In order to reduce the negative impact of the pandemic, Caritas Czech Republic provided humanitarian assistance to more than 150 families in Racha-Lechkhumi region.
In particular, each of 82 large families, single-headed households, and single mothers from Oni Municipality received 20 chickens along with the feeding for two months and other necessities. The same assistance was provided to 72 vulnerable families from Ambrolauri Municipality. Overall, Caritas project team distributed 3040 chickens. In upcoming weeks, the free consultations will be provided to the beneficiaries on poultry care.
The distribution of poultry and grants
The distribution of humanitarian assistance to the most vulnerable groups is one of two components of the project supported by Slovak Development Agency (SlovakAid) with the aim to reduce negative impact of Covid-19 pandemic on the population of Racha-Lechkhumi region.  

"This beautiful region is one of the least advanced in Georgia with a high level of poverty, which was even worsen by negative effect of Covid-19 pandemic. The first component of our response is designed to support large families, single headed-households and single mothers. By distributing live poultry, we have enabled these families to secure their basic nutrition and even to strengthen them economically," said Ekaterine Meskhrikadze, a project manager of Caritas Czech Republic in Georgia.




Another component of the project is the assistance to small and medium-sized businesses in the crisis- and post-crisis operation and job retention process through the grant support.

"Particularly the small and medium businesses need additional financial resources to continue operating, thus we are providing them financial and technical support to retain the number of jobs. With the grants, we will assist to approximately 25 SMEs," explained Meskhrikadze.

The rural development-oriented project entitled "Mitigation the negative economic impact of the Covid-19 pandemic on the population of Racha" is being implemented by Caritas Czech Republic in cooperation with the Slovak organization SOSNA and with the financial support of SlovakAid.