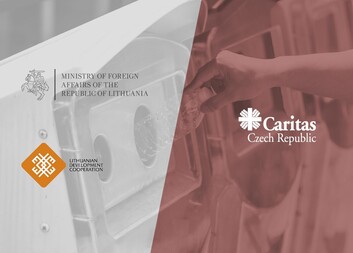 Czech Caritas partners with Lithuanian Government to promote sustainable waste management
Caritas Czech Republic has been assisting Georgian municipalities to set up and implement sustainable waste management practices. With the new partnership with Lithuanian Development Cooperation, Czech Caritas extends its support in this regard to all four municipal self-governments in Racha-Lechkhumi and Lower Svaneti region.
Thanks to the project financed by the Lithuanian Development Cooperation, the municipal authorities from Oni, Ambrolauri, Tsageri, and Lentekhi will enhance their knowledge and technical capacities in sustainable waste management practices, which will positively affect the environment as well as people´s health. The population itself will be more environmentally cautious and will engage more actively in waste reduction, separation, recycling, and reuse.


Empowering municipal authorities


According to the Association Agreement with the EU, Georgia has an obligation to carry out the necessary reforms and to harmonize legislation with a number of EU directives, including in the field of environment protectionand sustainable development.

As the project aims to improve waste management practices, based on the EU-Georgia Association Agreement, new waste recycling models will be developed for each municipality. Subsequently, the guideline document will be presented to the municipal and regional authorities.

Besides that, the experts will develop training modules on waste separation, recycling, and reuse and will provide training to the staff of municipal waste management companies and to the representatives of regional and municipal authorities. At least 30 people will be trained.

Eventually, the municipal stakeholders will be equipped with a guiding document on an appropriate waste recycling model suitable for each municipality and they will be trained in putting this model into practice, so that they can proceed with practical implementation of environmental provisions of the EU-Georgia Association Agreement.
Raising awareness at schools
Apart of working with municipal stakeholders, the project team will organize online awareness-raising lectures for school pupils and their teachers to discuss selected waste recycling models and raise awareness of the population on topics related to waste reduction, sorting, recycling, and reuse. Subsequently, the school pupils and their teachers will be more aware of the negative effects of uncontrolled waste production and insufficient waste recycling practices.

Given that biodegradable waste makes up a large part of the municipal waste, special emphasis will be placed on the topics of biodegradable waste recycling and reuse in the form of compost. We will encourage schools to establish their own composts and share with them electronic educational materials on how to do it.
CCRG other activities in waste management
Waste management is one of main priorities of Czech Caritas interventions in Georgia. To this end, Caritas Czech Republic handed over a waste truck worth 100,000 Euros to the municipality of Dusheti. In addition, a waste management plan for the protected areas of Pshav-Khevsureti was developed and incorporated into the existing Waste Management Action Plan of Dusheti Municipality.

In Racha region, thanks to the Slovak Aid, Czech Caritas supports Oni municipality in the development of municipal waste management infrastructure. During March, 60 units of 1000 liter metal waste bins and 135 units of 240 liter waste bins have been handed over to the Municipality and 7 cubic-meter off road garbage truck will be handed over in June 2021.

Moreover, as part of the EU-funded project "Promoting Rural Development and Diversification in Khulo Municipality", Caritas handed over garbage truck equipped with modern technologies to the Municipality of Khulo in Upper Adjara.